The Top 10 Practice Management Challenges in 2022
Doctors practice at hospitals, clinics, and in a wide range of other healthcare establishments where some of them are showered with excellent reviews whereas many others fail to even get some decent ones. This disparity in the experience of the patients not only depends on the doctors, their experience, or their mental status but also on the practice management. Now, what is practice management?

Practice management is a term associated with general practice. It is the management of the finance and administration of a doctor's office or that of a medical professional across different disciplines of medicine.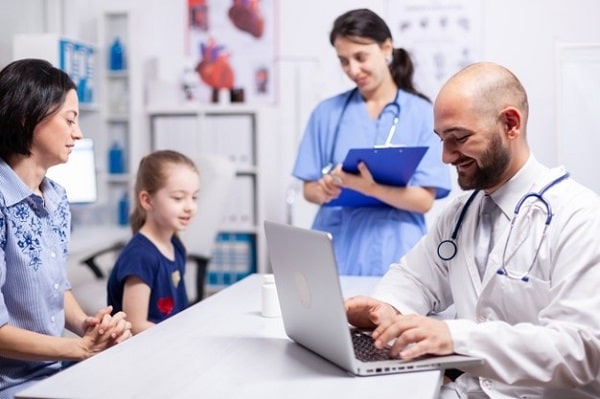 Why is Practice Management Essential?
The space of healthcare has evolved quite a lot. Besides, it is changing each day with the amount of research and development going on in the field where the innovative ways and the cutting-edge tools and technologies are replacing the older ones each day. New regulations are being introduced in the place of the old here all the time. These advancements are altering the physicians' practice.
Practice management has also grown quite complex today with the new-age ways in place. Thus, practice management challenges are many and diverse in nature but it demands a significant amount of attention to improve the patients' experience and that of the doctors and in fact, everyone in the system.
According to the data revealed, practices in the US lose $125 billion every year. This is mostly due to the poor medical billing operations. It is true that there is always room for improving the revenue cycle management but if we delve deeper, it will be clear that there are many other challenges beyond the management of revenues. Though many of the practices of the US have already started choosing patient management systems and state-of-the-art practice management systems, many of the practices are still devoid of these facilities. Therefore, it is an urgent need to improve the overall practice management system of the states in order to usher in a new era of improved and hassle-free practices that prioritize the patients in every step. Now, at the start of the new year 2022, let's revisit all the challenges of practice management and how they can be solved!
Here's taking a look into the Top 10 List of Practice Management Challenges in 2022 and their Solutions!
Practice management challenges are many and if we only look close enough then we can reflect on the nature of them and would be able to find out a remedy for them, thereby lifting the standards of the whole system. So, here's a list of the top 10 practice management challenges that the practices are facing today:
Increasing Cost of Operations
Operating expenses are forever growing. However, if we try and concentrate on the billing costs, then that would help significantly lower down the overall expenses in this segment.
Besides, revising the expenditures of IT supports, software, medical supplies, office supplies, stationeries, etc., will present a list of other areas where you can cut costs. These are some practical steps you can take to reduce your practice expenses:
Going green
You can simply try and minimize the paper that you use. This will not only help you advocate for environmental sustainability but also dramatically reduce your expenses. Besides, you can also go for several clinic management software for e-billing and a bundle of other purposes, thereby keeping things organized.
Contacting with vendors at adequate intervals for supplies
If you are purchasing medicines in bulk, then it's time to say no to that practice. There are numerous vaccines and medicines that have a brief shelf life and ordering more of them simply adds to your losses. Try to contact your vendors only after checking your shelves.
Saying no to Outsourcing IT support
If the IT support that works in the practice is outsourced then that is not only costing you more but making things unnecessarily complicated. You can hire an in-house IT support who would be informed of your patient management software, Practice management software, and systems and work every day accordingly.
Hiring Medical Billing Staff
Medical billing is difficult and it demands a lot of knowledge and experience from the staff who is assigned at the billing desk. A couple of permanent staff will certainly make things easier provided they are well-versed with the medical practice management software, or dental clinic management system if you are currently associated with a dental clinic, in use
Multiplying Payment Options
Payment options are multiplying each day. This means that your practice must also include all of them, giving equal importance to each one of them because payments can come through from any one of them at a given time. However, you must always look for an-inclusive clinic management software that would be able to monitor the payments in and out.
Incorporating a Hassle-free Practice Management System
There is an array of practice management systems today but you cannot just blindly trust any of the companies that manufacture or sells such systems. An efficient practice management system that will help in coordinating all of your processes that is affordable, convenient is the right one for you!
Getting a Decent Patient Management Software in Place
A clinic or a practice is usually pictured as a busy place, which is why it demands proper management software in practice. To mitigate all the hassles of greeting the patients, coordinating with them, and arranging for smooth and trouble-free visiting experiences, robust patient management software is the best thing you can opt for!
Implementing Mobile-first Options
Gone are the days when people used to be busy with their notebooks and registers because today we rely on our mobile devices and mobile applications to maintain and monitor our data. So, it would be entirely helpful if you first consider the mobile devices and encourage them to stand as a mobile-first practice.
Staying Updated with the Latest Software Upgrades
If you are associated with a healthcare clinic, hospital, or practice, and you want to streamline your processes, then the first thing that you should consider is streamlining your practice management software and systems. Monitoring your systems on a regular basis, tracking updates, renewing them at periodic intervals are some things that would help you stay updated with all the new advancements that you need to catch up with.
Marketing the Products and Services
In order to help a company grow, marketing is heavily relied upon. This is an undeniable fact even if it is a healthcare clinic or a practice that we are talking about. However, most often people are confused about the marketing ways and tricks they need to apply. Hiring an experienced digital marketer can hugely contribute to avoiding marketing woes and putting the best marketing method to practice.
Abiding by the Law and Order
No one institution can run a business without abiding by the law and order. Our state laws are changing every day, where old laws are being outdated and news laws are replacing them. Therefore, to keep pace with the best legal practices and put them to use you need to hire legal experts and consult with them from time to time. Opting for a legal consultation will ensure that your practice management runs smoothly and all the processes in it follow the law and legal strictures.
Reevaluating the overall performance
A system shall never run stable all around the year. There would be numerous ups and downs and performance drops would happen. Taking all these into consideration it is always great if you try and monitor the overall performance of your clinic or dental practice. This includes:
Discarding the old and faulty software and systems.
Replacing the old process of practice management.
Reviewing the salaries of the staff.
Looking after the infrastructural developments.
Reviewing the client base and the money transfer process for the clients.
Ensuring that things fit the budget allotted.
Leading-edge Patient and Medical Practice Management Software from GrowPractice at Your Service!
There are numerous challenges that pose obstacles in the way of practicing smoothly but going past them is not something that you cannot do. Yes, tackling the practice management challenges appropriately will lead to a successful business, thereby giving you an edge over the others. Most of these challenges are quite easy to wipe out. You can simply do that by switching to robust patient management software or a cutting-edge practice management system. Here's where GrowPractice comes into play, providing you with the latest software and services that will visibly take your practice management to new heights.
Here are some major benefits of the systems that GrowPractice offers:
Enhanced patient management.
Hassle-free billing.
Streamlined workflow.
Organized data.
Reduced errors.
Less confusion.
Improved focus on the patients.
Efficient work.
Cost-effective services.
Improved all-around experience.
So, if you had enough of the practice management challenges, then it's surely time for competent medical practice management software to take over all the duties and responsibilities of the medical or dental clinic or practice.